Aqua Dance Drill Free Instant Mount 3 Way Showerhead with Slide Bar Combo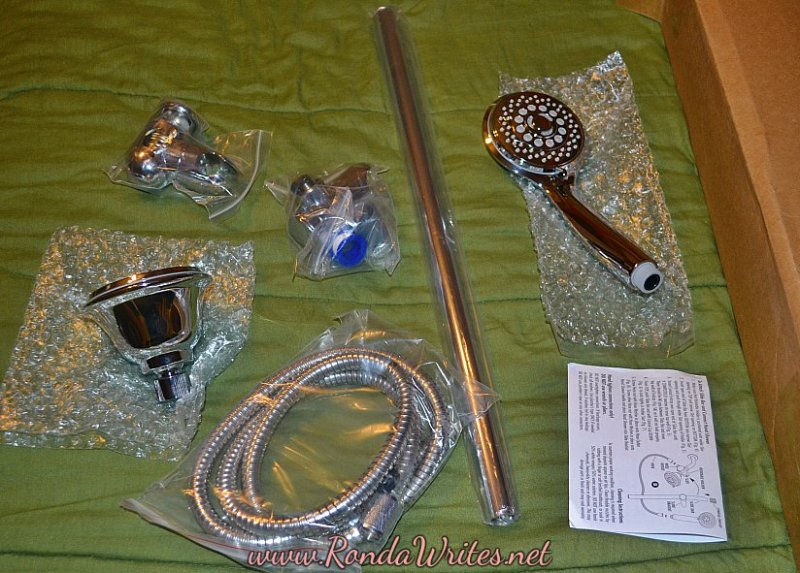 I was in the market for a new showerhead for my master bathroom, so I was happy to have a chance to test and review the Aqua Dance Drill Free Instant Mount 3 Way Showerhead Slide Bar Combo. There wasn't anything wrong with the other shower head I had, but the one in my kids bathroom needed to be updated. I figured I'd put mine in their bathroom and buy a nice one for my bathroom. This one is similar in terms of design to what I had, but what made this one special is that it has a slide bar.  I would be able to adjust the position of the Hand Shower.
Disclaimer: The above review is my own honest opinion.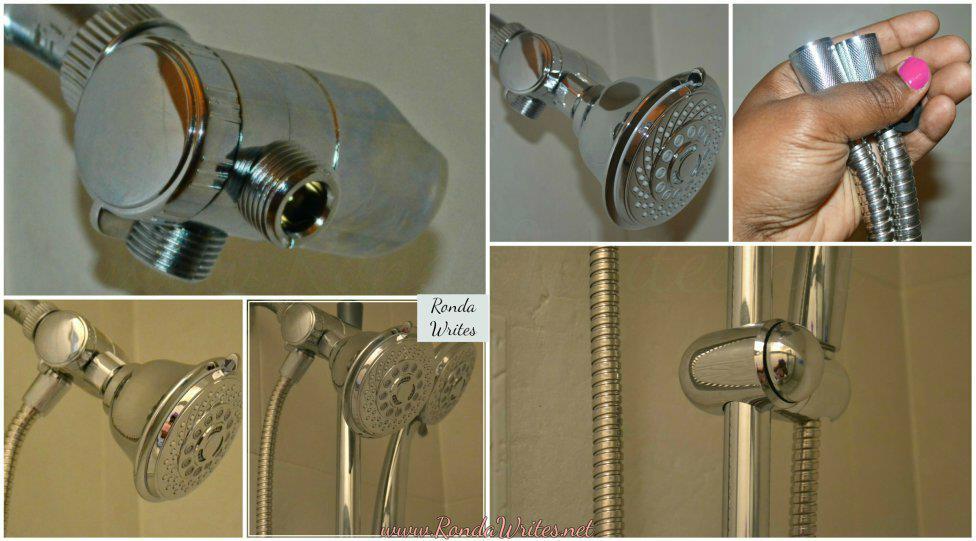 The directions were clear cut, in English and included pictures, which made this very easy to put together. It took under 10 minutes. There was a minor leak after testing the connection, but as noted in the instructions we are to "disconnect Diverter and add Thin Washer (spare) to Thick Washer already inside its neck then reconnect", if a leak occurred. That eliminated the problem.

Personally, I like a powerful spray from the shower. This shower system has a water saving option, and I wasn't sure exactly what that meant in terms of how the water pressure would feel, but I can say it did not effect the pressure. My former shower system had two shower heads also, but I like the option of being able lower the hand shower and have it aimed at my back while using the mounted shower to wash my hair. This way, the shampoo is washed off my back immediately while washing products out of my hair.

One thing I must mention is this shower head set weighs less than the set I removed. I was a bit unsure of the quality so I decided to complete this blog review after trying it for at least 2 weeks. It has held up nicely, so I'm no longer concerned. I will update this post if anything changes! So far, I'm pleased!

MANUFACTURER PRODUCT DETAILS

Instant-Mount Height/angle adjustable shower system combines 22" shower slide bar, overhead showerhead and matching-style hand shower. Each shower has large 4" chrome face and 6 settings. Includes 5' stainless steel shower hose and 3 way water diverter with angle-adjustable bracket.

Features: Water Saving Option

Includes: Installation Hardware, Showerhead, Hose

Material: Chrome, Stainless Steel, Plastic

Metal Finish: Chrome

Finish: Chrome-Plated

Protective Qualities: Corrosion Resistant, Rustproof

Flow Rate: 2.5 Gal. Gallons Per Minute

Showerhead Settings: Full Spray, Jet Massage, Mist Spray

Number of Settings: 30

Assembly Details: assembly required, no tools needed