Ozeri 360 Tower Fan Review

February 22, 2017 by Ronda
It's almost as if I am collecting Ozeri Tower Fans, but there's something about their design that makes me want to test each one as the opportunity presents itself.

Disclaimer: This post contains affiliate links, I will receive a small commission if you choose to purchase this product using my links. The following review is my own honest opinion of this product.

See it in action ↓

After viewing that video, who wouldn't want this tower fan? It's perfect for hot, stuffy days when you don't want to waste energy using the central air. My allergies makes opening windows for fresh air a sneezing pain on occasion, but I need to breathe!

I like to feel cool and since I don't like to use my ceiling fans on a setting past low or medium (I don't like seeing them shake), I like tower fans so I can feel the cool air hit my skin.

The Ozeri 360 Tower Fan spins 60°, 90°, 120° and even 360°. Who's going to complain about you hogging the airflow when the fan spins around completely?

Features:

38" height (6" x 6" x 38")

9 lbs.
3 whisper quiet speed settings
200 staggered micro-blades
Advanced cylindrical motion technology
Timer / multiple settings
3 preprogrammed airflow patterns
LCD control panel
8-hour programmable timer
Extended range remote control
Oscillates 60, 90, 120, or 360 degrees
Setting up my Ozeri 360° Tower Fan took less than two minutes and no tools were required. No tilt, it stands up straight and feels sturdy. After attaching the base to the fan and plugging it in, the first number that's visible is the temperate on the fan. I went to the thermostat to check to see if the numbers were the same, to gauge the accuracy of the fan and they both read 80°.

Review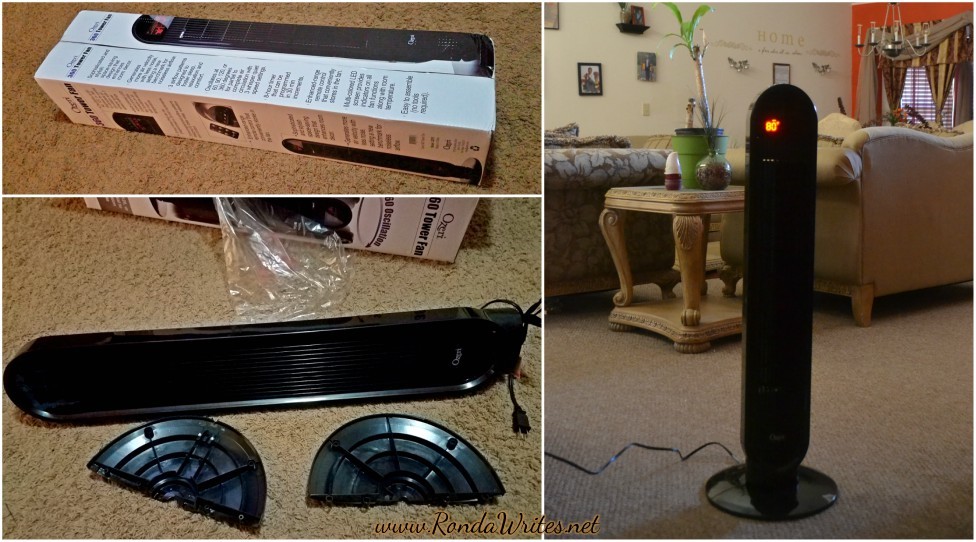 Setting it up is a breeze. It comes in three pieces, two of which are the base. Fit one into the other like a puzzle piece as you pull the power cord through the center hole. The base has an area where you fit the cord through so it doesn't move, and is not in the way while the fan rotates. The fan base is flat without the cord in the way.

The Ozeri 360° Tower Fan is a slightly shorter, lighter design than other Ozeri tower fans. The size of it makes it perfect for any room, and the 360° rotation capability makes it desirable for a  family room or living room where multiple people will hang out. It may be petite compared to the others, but it's just as powerful.

I have no complaints. But, here are some things a buyer should note:

It's reasonably quiet. It's not whisper quiet as described, there is some fan noise, but nothing that should keep you up at night. If you can tolerate basic fan sound, the level of which you would expect at low setting, this would not be a deal breaker. This fan provides many features.

Another thing to note is the base is made of plastic. Although it is a strong plastic, I would have preferred a heavier base like glass.