Sterline Sonic Pulse Rechargeable Toothbrush Review


I have been fortunate to try different types of toothbrushes recently. So far, I can honestly say this one has them all beat!

My husband has an electric, rechargeable toothbrush that he purchased at the dentist office for $120. I thought he was crazy spending that much on a toothbrush, and I still think it was an unnecessary purchase, but after trying the Sterline Sonic Pulse Electric Rechargeable Toothbrush, I now understand the hype! Especially since it costs 1/3 of what he paid for his!
When it comes to brushing, I'm thorough, but I have never been one to find joy in products that involve many steps. I just want to brush my teeth and go! However, with this toothbrush set, I was eager to try everything it offered and have been doing steps ever (although not required) since I received it.

Disclaimer: This post contains affiliate links. I may receive a small commission if you choose to purchase this product using my links.

Brush Heads

It comes with three types of toothbrush heads (two of each):
Slimsonic Brush Head, Professional Brush Head and an Interdental Brush Head. So far I have been using the Slimsonic, followed by the Interdental. I don't have braces, but I have crowns and the Interdental cleans the inside of it well.

Speed

It has three modes: Normal, soft and pulse. Pulse felt weird to me because I'm not used to stimulating my gums, so I kept it in normal mode. Soft mode is for people who have sensitive teeth and although I do have a problem tooth, I was able to use the toothbrush in normal mode with no problem.
MANUFACTURER PRODUCT DETAILS  


   UV LIGHT SANITIZER - The UV light sanitizer helps kill up to 99% of germs on your toothbrush head. Just place the brush head inside, close the cover and let it do all the work! No longer do you need to worry about how sanitary your brushes really are.





   THREE BRUSHING MODES - Normal Mode, for everyday use; Soft Mode, for anyone with sensitive teeth and gums; Pulse Mode, for gentle gum stimulation which promotes optimal oral health.





   MULTIPLE BRUSH HEADS - Slimsonic Brush Head, promotes naturally whiter teeth by gently polishing off surface stains; Professional Brush Head, extra fine bristles help remove plaque from uneven and hard to reach spots; Interdental Brush Head, ideal for cleaning braces, crowns or any space between poorly aligned teeth.





   TWO BUILT IN TIMERS - Automatic Timer, shuts the toothbrush off automatically after the dentist recommended two minutes of brushing; Interval Timer, a 30 second timer that allows you to clean all four quadrants of your mouth evenly.





   POWERFUL CLEANING TECHNOLOGY - With 31,000 brush strokes per minute, this is one of the most powerful toothbrushes on the market and is guaranteed to leave your mouth feeling refreshed and clean!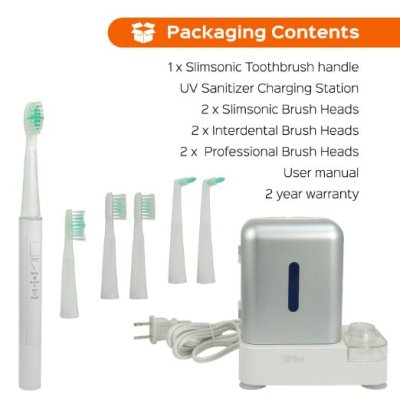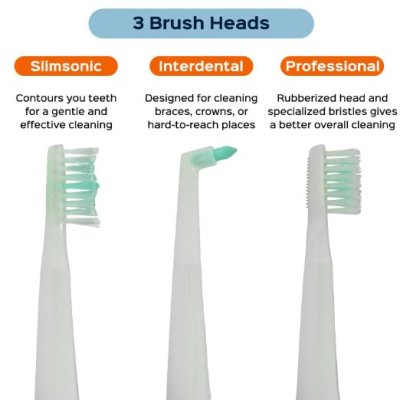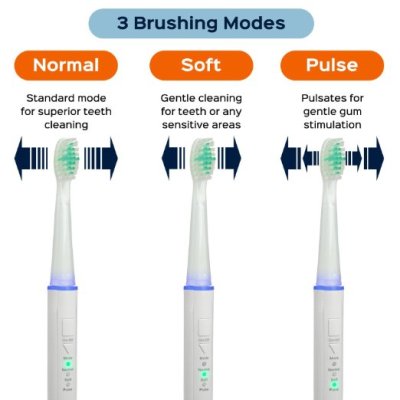 The toothbrush itself is powerful and I realized how hard I press on my teeth when brushing, by causing the motor to stop a few times. Something my dentist has warned me about before. It's really teaching me how to brush properly without rushing and using too much pressure. I also appreciate that it's rechargeable and all I have to do is plug it in, I don't have to waste money on batteries or worry about changing anything. I've dealt with battery operated toothbrushes and changing the batteries can be a pain!

I like the ability to sanitize and keep my toothbrush heads covered. When not in use, I keep the heads inside of the charging station. I really like this toothbrush set and can't find one thing to complain about. Lucky me...lucky teeth!

I also tried the Sterline Counter Top Water Flosser . Read my review!



Disclaimer: The above review is my own honest opinion of this product. This post contains affiliate links.