SUSU Handbag Review and Giveaway

November 22, 2014 by Ronda

Disclaimer: This post was created in partnership with SUSU Handbags and eAccountable. All opinions are my own.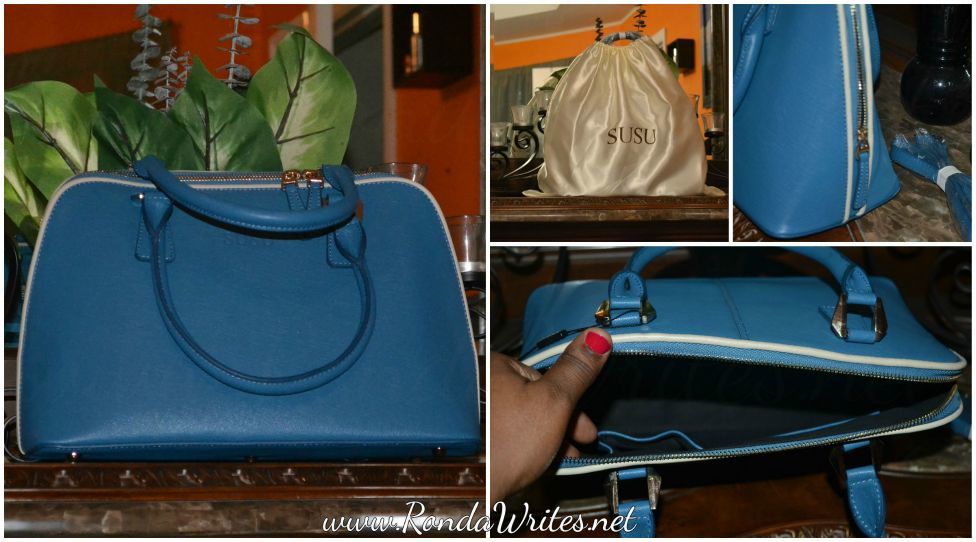 Hello. My name is Ronda and I have a problem when it comes to shoes and hand bags. My gosh, some of them can be delicious.....looking!

The photo above is of the Melissa bag in blue. It has a zipper that opens from the top to halfway down the sides, about 22". The outside is made of 100% Genuine Saffiano Leather, it has 2 cell phone pockets, a zipper pocket and a cotton interior. It also comes with a shoulder strap.

The interior of this bag has a lot of space. I take photos at local events often and on trips. I always look for a spacious bag that can fit my DSLR when I don't want to carry around the backpack. Because this bag opens wide and has a wide, flat base, I was actually able to fit my camera in it even with it in its cushioned case. Talk about a bag that can serve many purposes!

Compared to other bags I own, many of them can only be used on special occasions because of its size, material or color. The Melissa bag will definitely get a lot of use from me and it's stylish.

There are many styles and colors to choose from. This Holiday Season you may even be the lucky winner of a free one!

...or you can save 40% on a bag with the codes below!


SUPER EASY! 1 ENTRY POINT PER PERSON!!!
Just Enter Your Email Address to be notified.

CODES EXPIRED & REMOVED