Tri-Fold LED 10X Magnification Makeup Mirror

November 14, 2017 by Ronda
The Asani Touch Screen Tri-Fold Magnification Makeup Mirror has 21 built in LED Lights that surround the center 1X mirror. The left fold is also a 1X mirror, but it provides a profile view. The right fold has a 2X magnification on the bottom half and 3X magnification on the top half. It also comes with a detached, compact 10X magnification mirror that has two suction cups on the back and can be attached to anything that allows suction.

Disclaimer: This post contains affiliate links. All opinions are my own.


It's also flexible and lightweight, making it easy to travel with.

It doesn't come with a built in battery, 4 AAA batteries are required. There is an on/off switch in the back and to turn the light on, press the switch to "I", on the back of the mirror and on the front of the mirror, use your finger to gently touch the sensor circle. The light is bright, but not too bright where it bothers my eyes. But, it may result in you staring closely at your face. I noticed facial hairs I never knew I had, lol.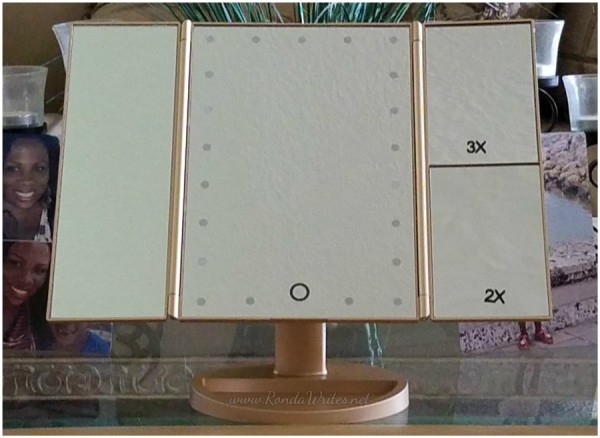 What's cool is that if the lights are too bright for you, they are dimmable. Made it dim or brighter by just keeping your finger on the touch sensor.

So far, I'm a big fan. I can take it on trips with me. It also results in neater makeup, better use of my eye liner and I've removed hairs not noticeable by a stranger's naked eye (without being in my personal space).